TDS14061 is een AUTOBUS interface voor sturing van HVAC systemen. Afhankelijk van het merk en type toestel, kan de interface ingesteld worden om tot 64 binnentoestellen te sturen.
De TDS14061 communiceert via Modbus naar een Modbus Slave interface: TDS20061xx, TDS20062xx of TDS20063xx om zo het HVAC systeem te kunnen aansturen. De interface is geschikt om specifieke VRV/VRF en residentiële split units aan te sturen.
Opmerking: Indien bedrade afstandsbedieningspanelen geïnstalleerd zijn in het HVAC systeem en deze zich bevinden op één centrale plaats, zorg er dan zeker voor dat het HVAC systeem de kamertemperatuur van de binnentoestellen gebruikt, en niet die van de afstandsbedieningspanelen.
HVAC Modbus Master interface toevoegen
Open de lijst van Inferfaces en druk op 'Nieuw'.
Selecteer 'TDS14061' van de lijst zoals hieronder weergegeven.
Modbus Slave interface selectie
Selecteer het juiste Modbus slave type:
TDS20061DA: voor DAIKIN HVAC systemen
TDS20061SY: voor SANYO HVAC systemen
TDS20061TO: voor TOSHIBA HVAC systemen
TDS20061ME: voor MITSUBISHI ELECTRIC HVAC systemen
TDS20061HI: voor HITACHI HVAC systemen
TDS20061PA: voor PANASONIC HVAC systemen
TDS20062MH: voor MITSUBISHI HEAVY HVAC systemen
TDS20062LG: voor LG HVAC systemen
TDS20062SS: voor SAMSUNG HVAC systemen
TDS20063FU: voor FUJITSU HVAC systemen
Configureer het AUTOBUS Adres
Selecteer het AUTOBUS nummer en vul het juiste interface AUTOBUS adres in.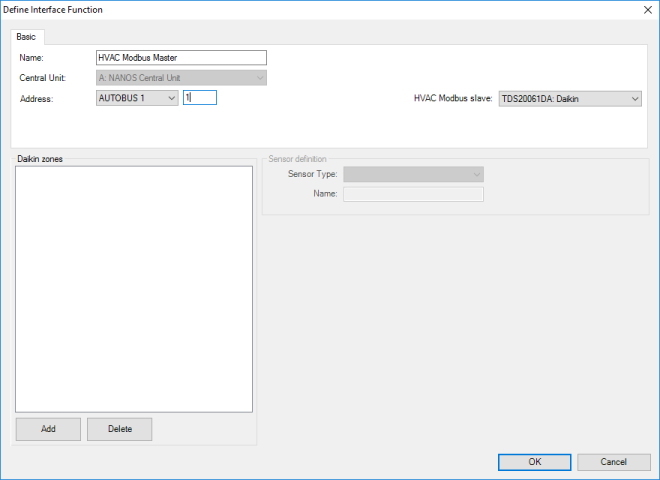 Configureer de Modbus Slave interface
Voeg HVAC binnentoestellen toe door te drukken op 'Voeg toe'.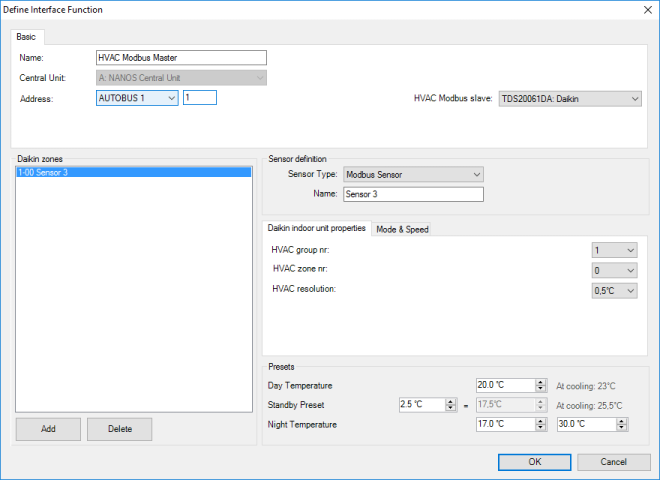 Voor elk binnentoestel moet een sensor toegevoegd worden aan de lijst. Configureer telkens de volgende instellingen:
Sensor definitie

Staat standaard op Modbus Sensor
Sensor naam

Vrij te kiezen benaming. Het is aan te raden om deze te noemen naar de locatie (zone) van het binnentoestel.
Indoor unit eigenschappen:
HVAC groep nr & HVAC zone nr

Dit is het adres van het binnentoestel. Deze instelling moet dezelfde zijn als het door de HVAC technieker manueel ingestelde adres op het HVAC binnentoestel;.
Opmerking: Contacteer de HVAC technieker om na te gaan welk adres elk HVAC binnentoestel gekregen heeft.
HVAC resolutie

Afhankelijk van het type HVAC indoor unit, kunt u hier de temperatuurresolutie instellen op 0,5°C of 1°C.
Mode en Snelheid
Zie hoofdstuk 'Extra parameters voor externe HVAC systemen'.
Als alles correct is ingesteld, druk 'OK'