TELETASK biedt vanaf Januari 2020 twee softwarediensten aan waarvoor een abonnement kan worden verkregen. Een abonnement is exclusief per TDS installatie. Voor meerdere installaties zijn dus afzonderlijke abonnementen te nemen. (Zie definitie van een "installatie" in het hoofdstuk TTecomm-platform)
TSF16xxx services introductie
1. Wat is de REMOTE SERVICES dienst Ref. TSF16100
Een TDS-installatie met een jaarabonnement voor REMOTE SERVICES kan door PROSOFT van op afstand via een internet verbinding geconfigureerd, gediagnosticeerd en onderhouden worden. Ook PROSOFT upgrades kunnen van op afstand gedaan worden. De verbinding tussen de PROSOFT PC is een beveiligde verbinding die loopt van PC naar TELETASK Cloud en van daar naar de centrale eenheid in de betreffende woning/het betreffende gebouw.
Daarnaast zal een installatie met dit abonnement de centrale eenheid activeren om geverifieerde e-mails te verzenden in plaats van standaard niet-geverifieerde e-mails.
Meer details vindt u in het hoofdstuk REMOTE SERVICES hieronder.
Remote Services is zeer nuttig voor System Integratoren die zich ver van de TDS-installatie bevinden (hoge reiskosten; trage service; hoge kosten voor de klant) of waar de klant niet zomaar toegang verleent aan de System Integrator tot zijn huis/gebouw.
In het geval van appartementsprojecten is het quasi onmogelijk om service-/onderhoudsafspraken te maken met alle eigenaren samen. Met Remote Services hoeft de systeemintegrator de eigenaren niet te storen en kan hij/zij zijn servicewerk op elk moment van de dag vanaf elke locatie doen. Zelfs in de nacht, weekend of tijdens vakantieperiodes.
Ook bij defecten kan de system integrator een diagnose stellen van op afstand en kan hij meteen de juiste onderdelen meenemen voor een depannage.
Remote Services heeft een lage jaarlijkse kost en is de ideale oplossing voor zowel de eigenaren als de systeemintegrator. Het genereert efficiënte service tegen de laagste kosten via een beveiligde en betrouwbare TTcloud verbinding. Deze is eenvoudiger op te zetten (gaat automatisch), is comfortabeler in gebruik en veel minder onderhoudsgevoelig dan een VPN-verbinding.
2. Wat is de VOICE CONTROL dienst Ref. TSF16125
U kan de functies van een TDS installatie aansturen mits gebruik van spraak.
Daarom biedt TELETASK een abonnement 'Voice Control' aan. Dit kan gebruikt worden voor de slimme assistenten Amazon Alexa en Google Home.
Bijvoorbeeld "schakel het licht aan in de eetkamer" of 'stel temperatuur woonkamer in op 21 graden', enz…
Meer details over de installatie en configuratie van spraaksturing kan u vinden in het hoofdstuk voice control van dit Technisch handboek.
Hoe kunt u een abonnement voor de TSF diensten bekomen
Abonnementen zijn specifiek voor aankoop door de System Integrator en zijn enkel te bekomen via het TTecomm platform (www.teletask.be – TTecomm) . Zie hoofdstuk over TTecomm voor meer details.
REMOTE SERVICES hoe werk je er mee
Na het aankopen van een REMOTE SERVICES abonnement (via TTecomm; zie uitleg hierboven) kan u de REMOTE SERVICE- functies (voor PROSOFT) meteen gebruiken.
Start PROSOFT, log in, selecteer de knop 'Installatie op afstand openen'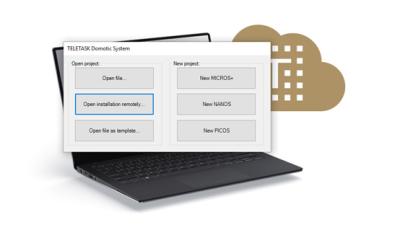 Selecteer nu de installatie waarmee u verbinding wilt maken: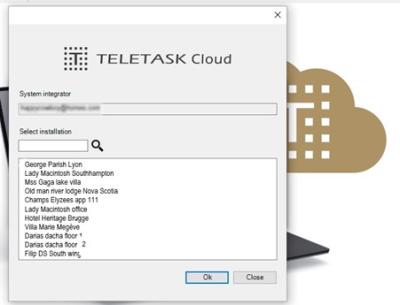 Selecteer de installatie van het scherm en PROSOFT neemt contact op met TTcloud, maakt verbinding met de externe centrale eenheid, maakt de benodigde beveiligde verbindingslaag en haalt de gegevens (.nbt-bestand) van de centrale eenheid. Dit proces duurt ongeveer 10 tot 30 seconden, afhankelijk van de snelheid van uw pc en de bandbreedte van de internetverbinding met TTcloud en tussen TTcloud en de grootte van de betreffende TDS-installatie.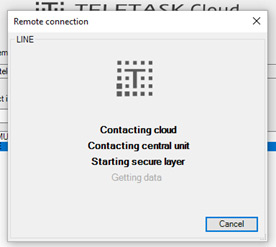 Nu bent u verbonden net zoals u bij de installatie lokaal zou zijn.
U hebt de problemen niet zoals bij VPN-verbindingen en u hebt niet het beveiligingsrisico zoals met port forwarding wel het geval is!
Internet verbindingen versus privacy en veiligheid
Belangrijk
:Om de TELETASK-eindgebruikers te beschermen, is het gebruik van port forwarding voor verbinden van op afstand op een TELETASK DoIP installatie niet toegestaan door TELETASK. Alleen Remote Services en VPN zijn toegestaan en ondersteund. We leven niet meer in tijden dat een niet beveiligde verbinding te verantwoorden is. Vergeet niet dat een installateur verantwoordelijk is voor het opzetten van niet beveiligde verbindingen. TELETASK heeft hier als fabrikant geen controle over en kan alleen wijzen op de risico's en de verantwoordelijkheid van de systeem integrator. Als specialist is de klant in de veronderstelling dat u geen risico's zal nemen die de privacy en de veiligheid van de woning en haar bewoners in gedrang kan brengen. Sommige risico's kunnen dan ook zware gevolgen hebben.

Voorbeeld: van risico van een niet beveiligde verbinding: Iemand met minder goede bedoelingen kan een poort van op afstand (internet hacking) openen en een kind kan op straat stappen hierdoor.
Uiteraard is het ook van het grootste belang dat geen andere onbeveiligde apparaten in de woning aanwezig zijn die een open internetverbinding kunnen veroorzaken. TELETASK wil er u daarom op wijzen dat vele toestellen zoals bv. uit de (low cost) IoT- wereld vaak slechts zwak- of helemaal niet beveiligd zijn. Datalekken en toegang tot de woning via digitale weg is daar mogelijk het gevolg van. TELETASK kan hier dan ook geen verantwoordelijkheid dragen, maar als systeem integrator zal u verplicht zijn om de klant te wijzen op de risico's van dergelijke toestellen in een domotica omgeving en in een omgeving waarbij men van op afstand deuren en poorten kan openen en/of andere risico's kan genereren.
Backup van uw .nbt bestanden
Met REMOTE SERVICES werkt u direct met het .nbt-bestand in de centrale eenheid zelf. Daarom moet u uw .nbt in PROSOFT opslaan na elke wijziging met het menu Bestand opslaan-als,. Zet het op een veilge locatie (cloud of lokale drive) waar het niet kan verloren gaan. In het geval van een defecte centrale eenheid, is de enige manier om het .nbt bestand te recoveren, het gebruik van de door uzelf opgeslagen versie.
Beschouw uw pc-schijf nooit als een veilige schijf. Uw mobiele PC kan ook defect- en verloren gaan! Cloud back-ups bij een betrouwbare partner zijn daarom het meest geschikt vandaag.
Voorbeelden zijn Dropbox en Onedrive, maar er zijn nog vele andere.
VOICE CONTROL hoe werk je er mee
Om Voice Control te kunnen gebruiken op uw TELETASK installatie (na het verkrijgen van het abonnement via TTecomm), moet een configuratie worden gedaan in PROSOFT en in de spraakassistent app.
Raadpleeg hiervoor het hoofdstuk Voice Control in dit online Technisch handboek voor alle configuratie van uw Amazon Alexa en Google Home slimme assistenten.
Inhoudstafel: