Het TELETASK Domotica Systeem
Deze handleiding biedt u een overzicht voor het configureren van een TELETASK Domotica Systeem (TDS). Het is een complete gids voor de PROSOFT Suite en andere TELETASK producten met aanvullingen en tips voor een state-of-the-art integratie.
Wat vooraf gaat:
Vastleggen van de eisen/wensen aan het systeem, op basis van gesprekken met de eindklant, architect en/of binnenhuisarchitect.
Vastleggen van het Verlichtingsplan.
Bepalen van de toestellen, Motoren etc. die gekoppeld zullen worden aan het TDS.
Vastleggen van het verwarmings-, koeling- en ventilatiesysteem.
Vastleggen van het beveiligingssysteem.
Bepalen van de typische loop routes doorheen de woning en op basis hiervan de verschillende toetsenpanelen, aanraakschermen en dergelijke vastleggen.
Eens dit alles vastligt, kan begonnen worden aan de configuratie van het systeem.
Comfort en flexibiliteit zijn niet alleen belangrijk voor de gebruiker, maar ook voor degene die het concept van een TELETASK oplossing moet vastleggen. De eenvoud en het grote comfort voor de installateur van een TDS is mogelijk dankzij zijn unieke opbouw. De specifieke opbouw wordt gekenmerkt door de strikte scheiding van in- en uitgangen van het systeem.


Dat u met deze eigenschappen nog geen lichtpunt of gordijn kan bedienen na de hardware matige installatie is een terechte opmerking. Daarvoor is namelijk een software relatie nodig tussen de in- en uitgangen. Binnen het TDS wordt deze verbinding tot stand gebracht via de TELETASK centrale eenheid. Deze centrale eenheid vormt dan ook het hart van uw TDS. Alle ingangen en alle uitgangen worden in principe met de centrale verbonden.
In het TELETASK domotica systeem wordt de relatie tussen de in- en uitgangen bepaald in de centrale eenheid. Deze centrale eenheid is het hart van de volledige installatie. Dit centrale systeem biedt veruit een veel krachtigere en betrouwbaardere oplossing dan systemen die op een decentraal systeem werken welke bij definitie een complexere configuratie hebben en kwetsbaar zijn voor verlies van informatie. In het geval van grotere installaties zal u zien dat een aanpak van verschillende gekoppelde TELETASK centrales u zowel eenvoud, de hoogste betrouwbaarheid en een verdeelde intelligentie biedt zonder nood aan een master-slave opstelling zoals bij traditionele decentrale systemen. Bij een mogelijk defect bij een TELETASK installatie gaan er geen functionaliteiten verloren buiten het defecte onderdeel op zich. Bij een decentrale opstelling waar een master centrale defect gaat, zal de volledige installatie falen of op zijn minst een aantal andere functies van niet defecte onderdelen.
Bij een TELETASK domotica systeem is de centrale eenheid (met voeding) het belangrijkste onderdeel. De in- en uitgangen kunnen communiceren met deze centrale eenheid. Deze zijn eraan gekoppeld met een tweedraads hogesnelheidsdatakabel
(+ twee draden 12V voeding) die we de AUTOBUS kabel noemen. In klassieke installaties is er echter steeds een veelvoud aan kabels nodig. Via deze methode wordt de relaties tussen in- en uitgangen heel eenvoudig en flexibel omdat deze niet vast liggen zoals bij een traditionele installatie. De relaties worden geconfigureerd in de TELETASK PROSOFT suite. PROSOFT wordt vrij aangeboden bij elk TELETASK systeem en kan gedownload worden via de TELETASK website.
Aan de hand van vrij instelbare software relaties is de verbinding volledig aanpasbaar aan uw persoonlijke behoefte. U creëert zo uiterst flexibele verbindingen tussen de in- en uitgangen. Deze relaties worden in de TELETASK centrale eenheid bewaard. Zo kunt u bijvoorbeeld met een eenvoudige druk op een toets (= een ingang) een licht (= een uitgang) schakelen.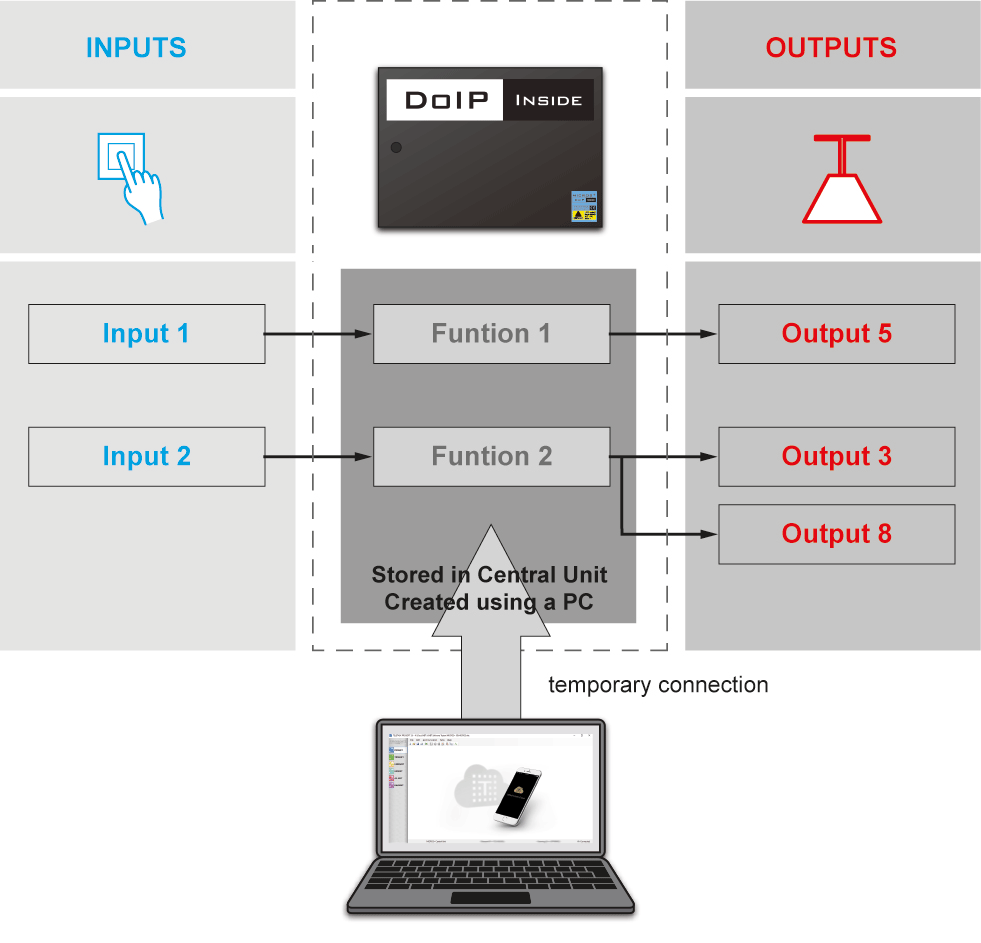 Deze verbindingen of relaties definieert u zelf met behulp van het zeer gebruiksvriendelijke software pakket: PROSOFT Suite. PROSOFT Suite is speciaal door TELETASK ontwikkeld om eenvoudig en snel op uw computer de verschillende relaties tussen de ingangen en de uitgangen te definiëren of in te stellen. Wanneer deze relaties in PROSOFT Suite naar wens gedefinieerd zijn, kunt u deze naar de centrale eenheid verzenden: de relaties worden dan in de centrale eenheid bewaard.
Van zodra de relaties in uw TELETASK centrale eenheid zijn ingeladen, kan de computer van het systeem losgekoppeld worden. U kunt nu de verlichting, de gordijnen, de rolluiken… volgens de ingestelde relatie bedienen vanaf eender welke toets, sensor of aanraakscherm.
Hardware en Software
Uit de opbouw van het TDS is duidelijk dat het TDS gekenmerkt wordt door zowel hardware als software.
Het hardware aspect omvat de verschillende interfaces van TELETASK, de bekabeling van deze interfaces met de centrale eenheid, de specifieke eigenschappen van de interfaces, de bekabeling tussen deze interfaces en de ingangen of uitgangen… Raadpleeg voor meer informatie over deze interfaces, de bekabeling en dergelijke, de TELETASK datasheets.
Het software aspect omvat het creëren van relaties tussen de in- en uitgangen, het definiëren van krachtige functies, integraties zoals verwarming/koeling, audio, lichtregeling, e.a., het instellen van diverse klokprogramma's om u van herhalende taken te ontlasten, veilige toegangscontrole instellen… Voor al deze mogelijkheden bestaat er één SUITE met vijf onderdelen (De PROSOFT Suite).
PROSOFT Suite
PROSOFT Suite is hét pakket om uw domoticaproject af te stellen. Het bestaat uit vijf onderdelen:
PROSOFT
In PROSOFT worden alle flexibele relaties tussen de in- en uitgangen gedefinieerd.
TIMESOFT
In TIMESOFT worden diverse klokprogramma's gedefinieerd die regelmatig weerkerende acties automatisch uitvoeren. Klik op het TIMESOFT icoon om de klokprogramma's voor het actuele project aan te maken.
CARDSOFT wordt gebruikt voor het snel en eenvoudig configureren van verschillende kaarten of tags voor de geïntegreerde TELETASK toegangscontrole. Klik op het CARDSOFT icoon om de kaarten of tags voor het actuele project te definiëren.
GUISOFT wordt gebruikt voor het aanmaken van een of meerdere GUI's. Deze GUI's zorgen ervoor dat u vanaf vb. een PC (met de vereiste optioneel te kopen licentiecodes) uw TDS op een plattegrond van uw woning kan bedienen. Klik op het GUISOFT icoon om een of meerdere GUI's aan te maken.
AV-SOFT
AV-SOFT wordt gebruikt voor het integreren van eender welke audio, video of home theater installatie met behulp van de TDS14042 universele RS232 interface of een AV-IP licentie TDS15240. In AV-soft kunnen bestaande protocollen gebruikt worden of aangepaste protocollen toegevoegd worden.

In deze handleiding wordt dieper op het software aspect van uw TDS ingegaan. Uiteraard zijn de hardware en software nauw met elkaar verbonden zodat er regelmatig naar de hardware beschrijving in de TELETASK datasheets wordt verwezen.
Het is steeds mogelijk de laatste versie van de datasheets te downloaden op de TELETASK website: http://www.teletask.be/nl/downloads