Configuratie van DALI ballasten met de TDS13621 interface.
Open een project (.nbt bestand) met een TDS13621 interface die geconfigureerd is voor DALI
Selecteer aan de rechterkant "DALISOFT"
Als PROSOFT verbonden is met de centrale en als de TDS13621 juist is aangesloten op de AUTOBUS, zal er een TDS13621 in de "Devices" lijst verschijnen.
Onder 'Devices', selecteer de juiste TDS interface.
Klik 'Search and discover DALI devices'
Configuratie van DALI ballasten met de TDS20620V2 DALI Tool
Sluit de TDS20620V2 aan
Als er een TDS13620 op de DALI-bus aangesloten is, koppel deze dan eerst af.
Verbind de TDS20620V2 DALI configuratie tool met zijn voeding, de DALI-bus en uw PC.
Start DALISOFT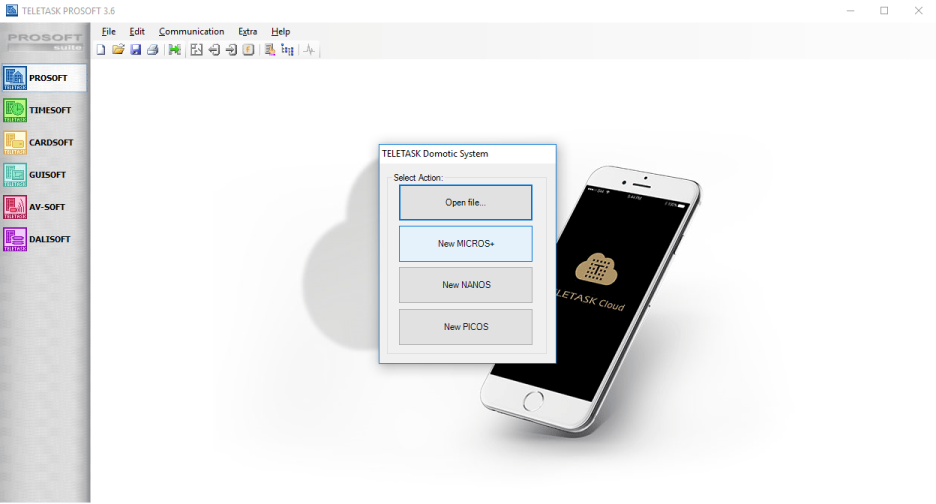 Start PROSOFT en selecteer gewoon 'Nieuw MICROS+'. Het adresseren van DALI ballasten brengt geen wijzigingen aan het .nbt project bestand. Dit kan dus onafhankelijk van de TELETASK-installatieconfiguratie gedaan worden.
Selecteer "DALISOFT" aan de linker kant.
Zoek DALI toestellen

Aan de rechter bovenhoek verschijnt een lijst van DALI toestellen die DALI drivers (ballasten) kunnen configureren.
Als de DALI tool correct is aangesloten aan de PC, zal er een TDS20620V in de lijst verschijnen.

U heeft u twee mogelijkheden om de DALI adressering configuratie te starten:
Zoek en ontdek DALI toestellen: selecteer dit om alle toestellen op de DALI-bus te vinden, zonder hun adres te wijzigen. Alle DALI toestellen die nog niet geïnitialiseerd zijn, krijgen een vrij adres. Het aantal gevonden toestellen zou moeten gelijk zijn aan het aantal fysische toestellen op de DALI-bus.
PROSOFT zal trachten om dubbele DALI adressen te corrigeren. Bij adres conflicten zal PROSOFT deze wissen en opnieuw toewijzen.
Initialiseer DALI toestellen: selecteer deze optie om alle DALI balasten een nieuw adres toe te kennen.
Let op! Deze optie zal alle adressen van de toestellen op de bus, wissen. Nadat het initialiseren is afgerond, krijgt u een lijst van alle DALI-toestellen met een toegekend adres, startend bij nul.
PROSOFT kent vrijen adressen toe, startend vanaf 0.
Controleer DALI Adressering
Wanneer de lijst is aangemaakt, kan u door de lijst navigeren met uw muis of met de pijlen op uw toetsenbord. Elke keer dat er een toestel geselecteerd is, zal het respectievelijke (DALI) licht oplichten en de vorige uitgaan. Zo is het gemakkelijk om te zien welk adres aan welk licht toegekend is.
Veranderen van DALI adres
Als het adres van één of meerdere toestellen moet gewijzigd worden, klik dan op het te wijzigen toestel. Vul dan het nieuw adres in en klik op "verander".
Als dit adres al aan een toestel toegekend was, zal dit andere toestel, het oude adres krijgen.
Opmerking: het veranderen van een adres is ook mogelijk als de bus voor 100% belast is met 64 toestellen. Eén toestel wordt dan verwijdert van de DALI-bus en terug toegekend wat leidt tot de verandering. Dit zal wel wat meer tijd vragen.
Einde
Het adresseren van DALI ballasten brengt geen wijzigingen aan het .nbt project bestand. U kan eenvoudigweg PROSOFT afsluiten na de configuratie.