For Daikin SPLIT, TWIN and double-TWIN indoor units
These systems are specially made for private homes. You can obtain a simple coupling with a SPLIT, TWIN and double-TWIN system by using a Daikin interface PCB (Printed Circuit Board) which can be plugged into an indoor unit.
Daikin order ref. for this PCB: KRP-413.
One PCB per indoor unit is needed for this type of control.
The SPLIT consists of 1 outdoor and 1 indoor unit.
The MULTI-SPLIT contains 1 outdoor unit and several indoor units.
Each indoor unit can be separately controlled by its own KRP-413 PCB.
Features of the PCB (contact inputs):
ON/OFF control
FAN SPEED control (off-low-medium-high)
COOL/HEAT selection
'ERROR' output and 'OPERATION' output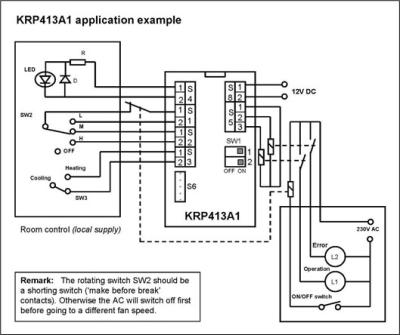 Daikin SKY-AIR indoor units
A SKY-AIR system is specially made for larger spaces where 1 outdoor unit is connected to several indoor units and where the indoor units always work together ON/OFF.
The indoor units are always installed in the same room (large living room, gym, an office, etc.) The SKY-AIR is needed for spaces, which are larger then 70m².
PCB's to use:
1. PCB ref. EKR-ORO:
only ON/OFF control possible
this PCB contains a connector and 2 pieces of wire

2. PCB ref. KRP-4:
-ON/OFF control
-T° setting by external potentiometer
-2 x output 'error' and 'operation'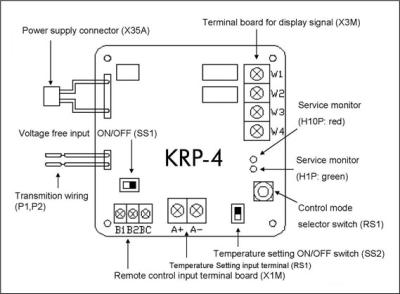 Table of contents: