Algemeen
De TDS13632 (2-kanaals) en de TDS13634 (4-kanaals) zijn PWM dimmers op AUTOBUS om DC dimbare LED verlichting (vb. LED strips) aan te sturen. De interface kan elk monochroom of kleuren LED systeem dimmen van koud tot warm licht inclusief RGB en RGBW voor standaard en top residentiële en professionele applicaties.
Configuratie van een PWM dimmer interface
Volg deze stappen om een TDS13632 of TDS13634 PWM dimmer interface toe te voegen aan uw TELETASK systeem:
In PROSOFT Suite, ga naar de menu "Bewerken" > "Uitgangen"
Kies "Nieuw"
Selecteer "TDS13632 of TDS13634" vanuit de lijst van interfaces
Kies een naam voor de dimmer interface
Selecteer de juiste AUTOBUS
Vul het AUTOBUS adres in voor de interface
Vul een naam in voor elke dimmer uitgang (kanaal) die gebruikt zal worden
The different available parameters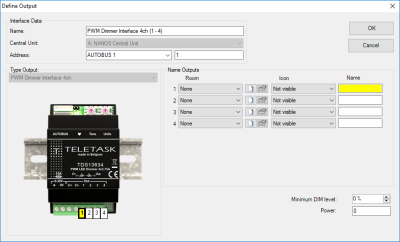 Ruimtes

Ruimte selectie. Voor meer info, ga naar de pagina over Ruimtes.
Icoon

Categorie van visualisatie van de uitgang.
Naam

Naam van de uitgang.
Minimum DIM niveau

Stelt het startpunt in van het dim percentage. Het minimum dim niveau wordt gebruikt om de weergegeven dimmer percentage te herberekenen (percentage van 0% tot 40%).