OPUS is een vlak 7" kleuren aanraakscherm voor binnen in wandmontage of met optionele tafel voet. OPUS kan zowel een centraal domotica scherm zijn als uw video- deurtelefoon en camera monitor. U kan het toestel gebruiken om te communiceren met één of meerdere VoIP SIP-gebaseerde videofoon buitentoestellen (zie lijst van ondersteunde merken en types in de compatibiliteitslijst). SIP betreft daarenboven ook een derden- SIP server waarop de binnen- en de buitentoestellen aangesloten zijn via een individuele SIP account. De SIP-server zorgt eerst bij opstart voor het vinden van de toestellen en zorgt daarna voor de communicatie tussen deze.
Zie ook Video Door Phone Compatibility Tests voor meer info over de door TELETASK geteste buitentoestellen.
De OPUS Configuratie in PROSOFT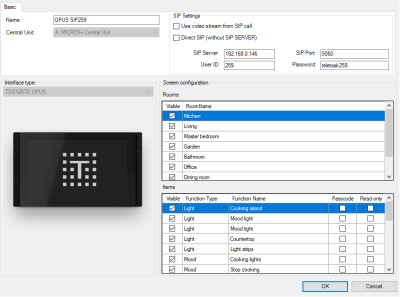 Vooreerst dient u in PROSOFT één of meerdere OPUS toestellen toe te voegen. U voegt deze toe in het PROSOFT menu 'Bewerken - Ingangen en andere - nieuw - TDS12070 - OK'. Dan kan u deze daar zowel configureren voor de domotica functies als voor het video- deurtelefoon gedeelte.
Opmerking: De VoIP-SIP video- deurtelefoon functies hoeft u enkel te configureren als u van deze toepassing wenst gebruik te maken. Het OPUS toestel is ook perfect geschikt om enkel de domotica functies te beheren.
De OPUS configuratie dienst te gebeuren in PROSOFT en bestaat uit twee delen:
- de configuratie van de VoIP SIP functionaliteiten (optioneel)
- de configuratie van de domotica functionaliteiten. Dit zijn alle functies zaken die u op het OPUS scherm te zien zal krijgen.
Configuratie van de OPUS VoIP SIP functionaliteiten in PROSOFT


In de rechter-bovenhoek (zie schermkopie hierboven) kan u de SIP instellingen zien. In elk geval moet een externe deurtelefoon zijn spraak communiceren over SIP. Voor de beeldcommunicatie daarentegen zijn er meerdere mogelijkheden.
Het gebruik van een 'Video stream from SIP' oproep (aangeraden)

Sommige deurtelefonie systemen kunnen hun video stream over SIP verzenden. Als deze mogelijkheid ter beschikking is, heeft deze wijze de voorkeur omdat dit de beste oplossing is voor de lip- (stem-) synchronisatie met het beeld.
Opmerking: hiervoor moet zowel het buitentoestel als de SIP server de 'early media' video SIP call werking ondersteunen. Zie de compatibiliteitslijst en details per merk/type buitentoestel.
Direct SIP

Sommige video- deurtelefonie systemen ondersteunen ook 'direct SIP'. Hierbij heb je geen SIP-server nodig. In deze operatiemode moet het buitentoestel ('the calling party') uiteraard het IP adres kennen van het binnentoestel (= 'the destination') .
Wanneer u in PROSOFT direct SIP selecteert, kan u enkel een poortnummer opgeven. Het IP adres en poortnummer van de OPUS zal dus moeten worden ingegeven in de configuratie van het buitentoestel.
Sip Server

Het IP adres van de SIP server (niet in te geven wanneer direct SIP geselecteerd is).
Sip Port

Het poortnummer van de SIP server of het poort nummer van de OPUS in geval van direct SIP.
User ID

De SIP id (het nummer dat opgeroepen moet worden)
Paswoord

het paswoord van de SIP zoals ingegeven in de SIP server.
Configuratie van de OPUS domotica- functies in PROSOFT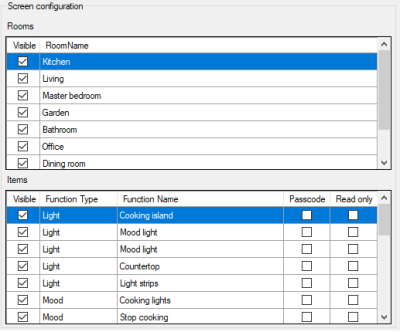 PROSOFT maakt meteen bij het toevoegen van een OPUS scherm alle aanwezige ruimtes en hun domotica functies aan. Net alsof u alle ter beschikking zijnde functies in alle ruimtes wil kunnen zien en beheren. Maar in veel gevallen wil u misschien bepaalde ruimtes of bepaalde functies in ruimtes niet visualiseren op het OPUS scherm. Misschien wil u ze ook sorteren volgens veel/minder gebruikt. Dit kan zowel voor ruimtes als voor functionaliteiten. Het sorteren is specifiek interessant in projecten met een groot aantal ruimtes en/of bestuurbare functies.
Toepassingsvoorbeeld: Wanneer u een OPUS scherm staan heeft in de zitkamer, zal u waarschijnlijk deze zitkamer boven in de lijst van ruimtes willen zien staan. Wanneer u veel lichtpunten in één ruimte heeft zal u waarschijnlijk deze die u meestal op het scherm wil bedienen, eerst in de lijst willen staan hebben. Bovendien wil je op het scherm in de zitkamer misschien niet de functies zien van slaapruimtes- en badkamers en omgekeerd. Je kan dit allemaal en heel makkelijk instellen in PROSOFT
Rooms (ruimtes)
Standaard staan alle ruimtes aangevinkt. Hierdoor komen ze allemaal zichtbaar op het OPUS scherm. Maar je kan elke ruimte uit/aan- vinken naar wens. U kan ook de ruimtes naar wens sorteren zodat ze meer naar boven of onder op het OPUS scherm zullen komen. Om een ruimte te verplaatsen in de lijst, klikt u ze aan, hou de muisknop ingedrukt en verschuif de knop naar onder- of boven.
Opmerking: Het kan nodig zijn om het verschuiven in meerdere stappen te doen.
Wijzigen zichtbaar of niet

Zet het vinkje aan/uit naargelang je de betreffende ruimte op het OPUS scherm wil tonen of niet
Sortering

Klik op de naam van de ruimte en sleep met de muis naar de gewenste positie in de lijst..
Items (functies)
U kan dezelfde maatwerk instellingen doen voor alle functies in een ruimte, net zoals bij de ruimtelijst (zie hierboven)).
U kan elke functie (vb een lichtkring) sorteren binnen de eigen 'lichten' groep. Ook motoren en andere blijven op het OPUS scherm steeds binnen hun eigen groep. Zie de schermkopie hieronder . U kan zien dat de groepsiconen vast zijn, als een soort hoofdstuk titel. Enkel de functies binnen een groep kan u aldus een eigen sortering geven in PROSOFT.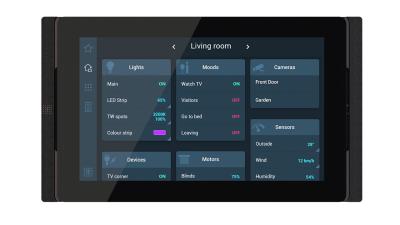 Voorbeeld. U kan in het beeld hierboven de lichtkringen 'Main, LED strip, TW spots and Colour strip' hersorteren binnen de groep Lights.
Wijzig zichtbaar of niet

Vink de markeerbox aan/uit naar de wensen van de klant
Sortering

Klik op de te verplaatsen functie (vb een lichtkring) en sleep ze naar de nieuwe gewenste positie in het menu. Functies kunnen niet buiten hun groep verschoven worden zodat bijvoorbeeld lichten niet tussen motoren komen te staan.

Opmerking: De sortering van de groepen kan u niet wijzigen. Lichten komen steeds als eerste menu item op het OPUS scherm, daarna de Moods (sferen), enz.. Wanneer er bijvoorbeeld geen motoren in een ruimte zijn, dan zal deze groep niet voorkomen op het OPUS scherm. Een ruimte waar bijvoorbeeld enkel een licht en een elektrisch gordijn is, zal slechts deze twee groepsiconen bevatten. De OPUS schermbediening is hierdoor veel overzichtelijker en gebruiksvriendelijk.
Configuratie in PROSOFT van een buitentoestel van een SIP video- deurtelefoon installatie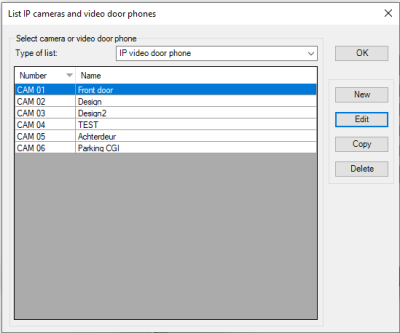 Het buitentoestel moet u in PROSOFT toevoegen alsof het een IP camera betreft. In PROSOFT kan u dit doen in het menu 'Extra - menu - IP Camera's - Nieuw'.
Algemene instellingen
Camera naam

Naam van het buitentoestel. Vb 'voordeur', 'hek', 'poort 1',..
Video instellingen
Camera Url

link naar de video stream van het buitentoestel. De optie zal gebruikt worden voor de camera view in de OPUS en ook gedurende SIP oproepen wanneer de optie "use video stream from SIP call" is aangevinkt in het instellingsmenu van de OPUS in PROSOFT.
;Motion JPEG mode;
. Still Image: Bij de opgegeven url (camera) wordt een enkel beeld opgevraagd. De uiteindelijke video stream bestaat uit continu na elkaar opgevraagde stilstaande beelden die van de camera moeten komen. Dit is dan ook een minder aangeraden methode van werken en enkel te gebruiken wanneer er geen andere video stream mogelijkheden zijn of als uw camera('s) enkel still image compatibel zijn .
. Server streaming: De opgegeven url zal in deze mode een mjpeg stream leveren (dit is eentype stream die we zeker aanraden; de spraak is hierbij niet volledige synchroon met het beeld, maar is beperkt tot een kleine vertraging).
. Real time streaming: Is gebaseerd op het RTSP protocol. In dit geval moet de camera een stream leveren met H264 video codering (in te stellen in de camera zelf). H264 heeft het nadeel dat de video stream een kleine vertraging heeft op het reële beeld en er is ook hier geen synchronisatie met de spraak).
;Authentication:
Hier kan u het authenticatie paswoord ingeven om toegang te bekomen tot de video stream. Als er in de camera geen authenticatie is ingegeven dan moet dit veld ook leeg zijn
Extra VoiP camera instellingen
Voip call ID

SIP ID van het buitentoestel.
DTMF accept call

dit veld is niet van toepassingen voor OPUS (leeg laten)
DTMF end call

dit veld is niet van toepassing voor OPUS (leeg laten)
Deuropener instellingen
TELETASK functie

Je kan hier een TDS functie kiezen die tijdens een oproep door de OPUS gebruiker (binnen) kan uitgevoerd worden om toegang te verlenen aan de bezoeker via een geautomatiseerde deur/poort/hek of andere. Typisch is dit een timed functie die een contact sluit gedurende 3 à 5 seconden (puls naar de poortopener of deur- ontgrendeling). Dit kan echter ook een Timed Local Mood zijn waarbij bij het openen ook andere zaken gebeuren zoals lichten binnen/buiten aanschakelen (eventueel slechts voor een bepaalde tijd), binnen het audio systeem activeren, sfeerlichten bedienen, enz ...
DTMF deurcode

Zendt rechtstreek van uit de OPUS een DTMF code naar het buitentoestel om de deur te openen.
Opmerking: Uiteraard is de DTMF functie enkel bruikbaar voor buitentoestellen die dergelijke aansturing ondersteunen. Het buitentoestel zorgt dan zelf voor het contact om de deur/port/hek te openen.
Inhoudstabel: