DE INTERCOM FUNCTIONALITEIT OP OPUS SCHERMEN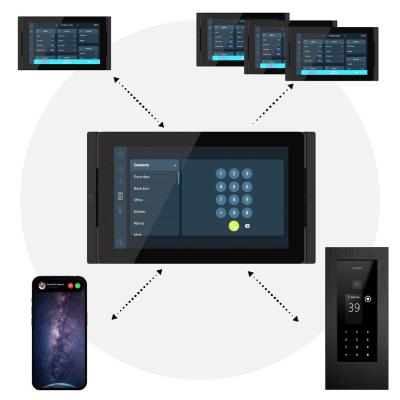 Wanneer u beschikt over een VoIP SIP server, kan het OPUS aanraakscherm daarmee verbonden worden, bv. als een handenvrij binnen toestel voor video-deurtelefonie. Maar ook een intercom functie is mogelijk. Dit geeft dan de mogelijkheid om gesprekken te voeren tussen verschillende OPUS toestellen.
De verschillende OPUS intercom mogelijkheden

• Oproep van een OPUS naar een andere OPUS.
• Oproep van een OPUS naar een ander type interne VoIP SIP telefoon.
• Oproep van een OPUS naar een externe VoIP SIP telefoon of gsm (*).
• Een groepsoproep van een OPUS naar alle andere OPUS toestellen in het gebouw.
De eerste persoon die opneemt, heeft het gesprek en de andere toestellen stoppen dan meteen met bellen.
Afhankelijk van de IP-server mogelijkheden, kunnen bepaalde toestellen uitgesloten worden waar de oproep niet zal te horen zijn (bv. in de hoofdslaapkamer).
• AUTOANSWER (*) groepsoproep van op een OPUS naar alle andere OPUS toestellen in het gebouw.
Enkele voorbeelden
'Hallo, het eten is klaar'
'Hallo Marie, uw taxi is aangekomen'
Of in een bedrijfsomgeving:
'Hallo Wim, gelieve Diek te contacteren'
'Beste medewerkers, onze Indische collega's zijn vandaag bij ons in opleiding. Ze zullen ook bij de lunch aanwezig zijn'.
(*) Op voorwaarde dat uw SIP server deze functionaliteit ondersteunt.
OPUS PRIVACY GARANTIE

TELETASK respecteert en waakt over de privacy van zijn klanten. Afluisteren met een OPUS toestel is daarom onmogelijk gemaakt. Een gesprek, naar en van een OPUS toestel, kan daarom maximaal vijf minuten duren.
1. In geval van een oproep die binnenkomt op het OPUS toestel (standaard gesprek):
Dat kan enkel wanneer bij een oproep (het belsignaal gaat) men de oproep beantwoordt door op de groene hoorn van het aanraakscherm te drukken. Enkel dan kan de gebruiker spreken met de oproeper, tot de gebruiker de oproep terug afsluit (rode hoorn) of maximaal 5 minuten.
2. In geval de gebruiker een oproep doet van een OPUS- naar een ander toestel (standaard gesprek):
Idem als in het bovenstaand geval: Na het afsluiten van het gesprek (van eender welke zijde), zo niet, zal na het verlopen van de maximale oproeptijd de verbinding automatisch worden verbroken.
OPUS PROSOFT INSTELLINGEN

• Definieer de OPUS toestellen in de configuratie applicatie van de SIP server, zodat ze elk een VoIP call ID krijgen.
• Maak daarna ook de eventueel gewenste Groeps-call (VoIP call ID) nummers aan. Elk dergelijk nummer bevat dus alle OPUS toestellen die je in die groep wil kunnen oproepen.
• Geef nu de verschillende OPUS toestellen in PROSOFT in voor de standaard VoIP werking als IP camera. Ga daarvoor in het menu Extra / IP-camera's, en kies "Nieuw". Doe dit voor elk OPUS toestel. Geef de naam in van het toestel (bv. 'OPUS keuken') en vul de VoIP Call-ID nummer in (zoals gedefinieerd in de SIP server instellingen van hierboven).
• Maak nu ook de (één of meerdere) oproepgroepen aan in PROSOFT (idem zoals hierboven in het menu Extra / IP-camera's). Elke groepsoproep heeft een eigen VoIP call ID nummer en is in te geven als een afzonderlijke "IP-camera".
• Geef in 'camera naam' de naam in van deze oproepgroep.
bv. 1 'Bel overal'.
bv. 2 'Bel keuken en wasplaats''
bv. 3 'Groepsboodschap met AUTOANSWER doorgeven' (zoals om 'komen eten' of 'tijd voor school' te kunnen zeggen door de luidspreker van alle of een beperkt aantal OPUS toestellen.
bv. 4 'Bel discreet'
• Geef de 'VoIP call ID' in (het call nr. dat u in de SIP server voor deze groep wil gebruiken).
bv. '503' voor groep 1, '504' voor groep 2 en '505' voor voorbeeld 3, enz.
Deze nummers zijn dus bepaald en te programmeren in de gebruikte SIP server.
Opm.: Confirmeer nu alle instellingen aan de DoIP centrale eenheid, door een verzending te doen van het gewijzigde nbt- bestand.


Table of contents: