Test between OPUS and Comelit
Tested Units
IKALL in a demo set
Set includes 1456G (3rd party gateway), gateway art. 1456, power supply art. 1441 and the IKALL outdoor unit.
Version 1.3.1 is necessary for the gateway and the external unit
SETUP: The 1456G gateway is connected to the 1456 gateway and the last one is connected to the local test network. The OPUS was also connected to the same network.
OPUS Audio Configuration
SIP Speaker scaling 7
SIP Microphone scaling 20
Voice 80%
SIP Setup
Comelit unit doesn't have an internal SIP server. We have tested with our SIP server (UNIFY Openscape business ) as the external SIP server.
We also tested early media with a YeaStar SIP server and with Direct SIP (the UNIFY doesn't support Early media)
Audio test

You can only set-up two audio codecs in the ViP Manager, they are both working:

We had to set up the following setting at the Comelit units to have satisfying results (ViP Manager, External unit, Settings)
Loudspeaker Volume: 5
Mic volume: 5
Call tone volume: 3
Voice message volume: 3
Paging volume: 7

Summary
At the beginning and very end of the communication, there is a cracking sound. The sound is fine but hollow.
DTMF
DTMF was found working to open the door.
Video
Available URL's:

Summary
There is also an RTSP stream available from the gateway module, but it's better to use the RTSP stream from the camera directly, you also have to disable the setting 'Stream video via RTSP' in the gateway to get Early media working
Direct SIP Setup
In the Third-party module (1456G) you have to make the following settings:
ViP to Sip setting:
Set ViP to Sip call mode to 'Direct'
If you want to use Early Media also switch off 'Stream video via RTSP'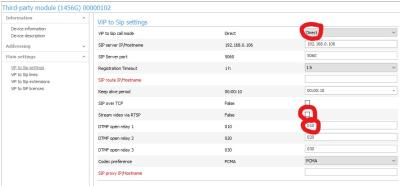 ViP to Sip lines:
Set User and User ID to the SIP IP you have configured in PROSOFT


ViP to Sip extension:
Set as Sip recipient the IP address of the OPUS


PROSOFT
Don't configure a URL, only setup the SIP Call ID and the door opener function, example DTMF code 010 for Comelit relay 1