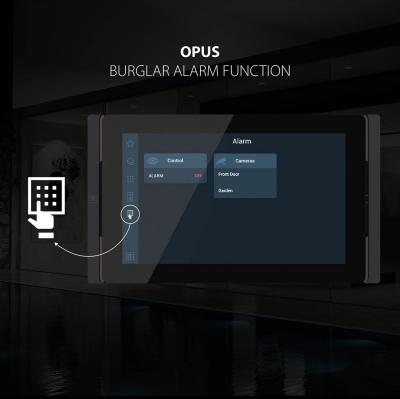 Het ALARM icoon ziet eruit als een codeklavier. Wanneer je dit aanklikt, ga je meteen naar het scherm 'ALARM' dat een ruimte is die PROSOFT hiervoor speciaal automatisch heeft aangemaakt voor bediening van een alarmsysteem. U kunt er echter ook andere functies in onder brengen door deze in PROSOFT ook toe te wijzen aan de ruimte 'ALARM'.
De hoofdbedoeling is echter dat u in deze ruimte twee toetsen gaat configureren, die paswoord beveiligd zijn.
1.Diefstalalarm armen (activeren)
2. Diefstalalarm disarmen (deactiveren).
Terugmelding alarmstatus: Bovendien kunt u (is sterk aan te raden) ook een contactingang visualiseren die de status van het alarmsysteem aangeeft. Zo kunt u op het OPUS scherm duidelijk zien of het alarmsysteem 'armed' of 'disarmed' staat. Geen overbodige luxe dus.
Belangrijk:
Het toegepaste alarmsysteem moet daarvoor over een spanningsvrije ingang beschikken die, bij het sluiten van een TDS-contact, de nodige status aanneemt, ongeacht andere eventuele aanwezige klavieren in de woning. De contactingangen zijn met andere woorden, prioritair t.o.v. eventuele systeemklavieren van het alarmsysteem.
Alternatief kan OPUS ook een alarmcentrale bedienen met een impuls. Een impuls op de ene uitgang is dan voor het 'armen' van de centrale en de andere voor het 'disarmen'.


Door in PROSOFT rechtstreeks de twee betreffende uitgangsrelais (of desgewenst de timed functies) te beveiligen met een paswoord, zal bij het aanklikken van één van deze twee functies (op het OPUS scherm), een numeriek toetsenbord verschijnen. De gebruiker kan dan na het indrukken van het juiste paswoord, de gewenste functie activeren. Dit kan, afhankelijk van de gekozen sturingsmethode, zowel een permanente sturing zijn van een uitgangscontact, of het geven van een impuls daarop.
Overzicht van de vereisten van het alarmsysteem:
1. Beschikken over (liefst) twee afzonderlijke impulsingangen voor 'arm' en 'disarm'. Alternatief permanente ingang voor 'arm' en/of 'disarm'
2. Een terugmeldingsuitgang die aan de TDS-installatie meedeelt in welke status de centrale zich bevindt zodat u dit ook duidelijk op het OPUS scherm kunt visualiseren.
3. Indien er op de centrale ook een 'part armed' mogelijkheid is (bv. beperkte 'armed' modus tijdens de nacht) dan moet u ook deze met bij voorkeur een impuls kunnen aansturen en een feedback contact daarvan krijgen.

Suggestie:
Vaak heeft u bij het verlaten van de woning niet alleen de mogelijkheid nodig om het alarmsysteem te 'armen' maar ook besturing van buitenverlichting en/of een gemotoriseerd hek. U zou dergelijke sturing ook in PROSOFT kunnen toekennen aan de ALARM ruimte zodat deze functie ook daar te besturen is. Uiteraard heeft dergelijke functie meestal geen paswoord beveiliging nodig, tenzij er kleine kinderen zijn en dat men deze functie om veiligheidsredenen niet mag kunnen bedienen zonder paswoord. Hetzelfde paswoord zal dan geldig zijn voor deze toets als voor het alarm.
PROSOFT ALARM INSTELLINGEN:
Ken aan een relaisinterface in PROSOFT, twee uitgangscontacten toe aan de ruimte 'ALARM' (reeds automatisch aangemaakt door PROSOFT van zodra u minstens één OPUS toestel aanmaakt).
Maak eventueel twee 'Timed' functies aan die de uitgangscontacten bijvoorbeeld van een impuls van 2 seconden voorzien (afhankelijk van wat de alarmcentrale als ingangsimpuls dient te ontvangen om de 'arm'/'disarm' status aan te nemen).
BELANGRIJK: Keuze van de uitgangsinterface TDS13504, TDS13512 of TDS13510.
In principe kunt u om het even welke uitgangsrelais gebruiken, maar gezien uw TDS centrale waarschijnlijk niet gevoed is via een power back-up systeem, zal deze bij spanningsuitval ook de contacten van de relais van een TDS13504 en TDS13512 openen. U kunt met andere woorden geen permanente sturing doen van de alarmingangen als u deze types relais zou gebruiken. Als uw alarmsysteem dit nodig heeft, gebruik dan enkel uitgangscontacten van een relaismodule met bi-stabiele uitgangen: TDS13510.
Als uw centrale met 'arm'/'disarm' impulsen gestuurd dient te worden, dan kunt u zowel TDS13504, TDS13512 als TDS13510 gebruiken.

Het paswoord voor 'arm'/'disarm' is het zogenaamde 'user paswoord' dat op verschillende plaatsen kan gebruikt worden. U kunt het user paswoord instellen/wijzigen in het PROSOFT – Extra – users – code menu.
Opm.: Vergeet niet de nbt naar de centrale te verzenden na het ingeven of het wijzigen van het paswoord. De DoIP centrale zorgt ervoor dat de gebruikte OPUS schermen het nieuwe paswoord onmiddellijk ontvangen.

Table of contents: