Omschrijving
Deze functie laat toe om een niet-audio toestel te besturen via infrarood, RS232 of IP. Voorbeelden van dergelijke toestellen zijn: gashaarden, bubbelbaden, ... . Ook kan je met deze functie de extra codes van een audiobron bedienen, onafhankelijk van een zone!
Parameters
'Send IR/RS232 ;of IP code'

.Selecteert het toestel dat gecontroleerd dient te worden via IR, RS232 of IP.
'Functie'

Selecteert de specifieke code die naar het toestel gestuurd moet worden.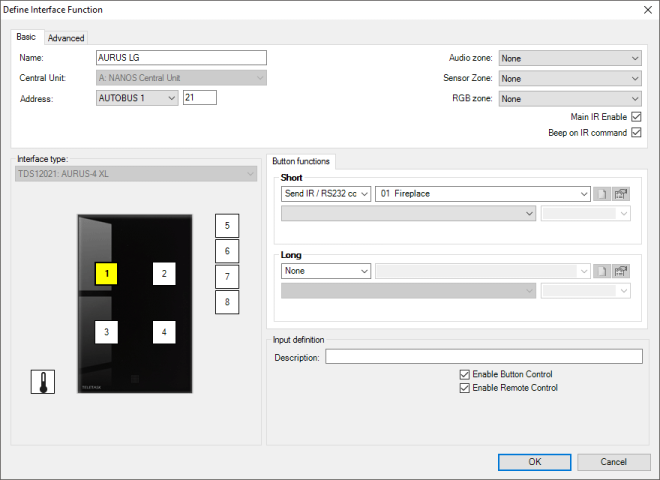 Werking vanaf een interface
'Kort'

bij een korte toetsdruk wordt de geselecteerde functie geactiveerd. Drukt u opnieuw kort op de toets, dan wordt de functie opnieuw geactiveerd.
'Lang

' de werking is hetzelfde zoals beschreven onder 'Kort'.
Werking vanuit een andere functie
Bij het activeren van de andere functie wordt de IR/RS232/IP code uitgestuurd. Bij het uitschakelen van de functie gebeurt er niets.
Opmerkingen
Voor meer informatie over het sturen van IR/RS232/IP systemen, zie het hoofdstuk AV-SOFT.
Niet iedere functie kan uitgeschakeld worden. Of een functie al dan niet uitschakelbaar is, staat beschreven bij de verschillende functies