Bij het opstarten van uw TELETASK domotica project heeft u uw TELETASK centrale eenheid moeten selecteren (MICROS+, NANOS of PICOS). Door de correcte centrale te selecteren, worden door PROSOFT alle standaard digitale en analoge ingangseenheden automatisch aangemaakt. Daarnaast worden bij ieder project automatisch de ingangen voor 'Master' functies van de TELETASK afstandsbediening aangemaakt.
Wanneer u meer 'I' interfaces gebruikt dan de standaard aanwezige ingangen, dan moet u deze 'I' interfaces aan uw project toevoegen. Bij het toevoegen van een 'I' interface zijn er vier parameters in te stellen.
Parameters nieuwe 'I' interfaces:
'Groep'

Kies de (functionele) groep waartoe de nieuw toe te voegen 'I' interface behoort: 'Algemene interface', 'Digitale Ingangsinterface', 'Analoge Ingangsinterface' of 'AV Interface' (zie 'I' interfaces: ingangen en andere).
Zorg ervoor dat u de juiste functionele groep kiest. U kunt in een latere fase niet zomaar van functionele groep veranderen. Als u zich van functionele groep heeft vergist, moet u de aangemaakte 'I' interface verwijderen en opnieuw (correct) aanmaken.
'Type Ingang'

selecteer hier de concrete TELETASK 'I' interface. Alle beschikbare producten binnen de geselecteerde functionele groep staan oplopend gerangschikt volgens het TDS artikelnummer.
'Adres'

Deze instelling wordt automatisch door PROSOFT ingevuld. Deze parameter is echter vrij instelbaar. Zorg ervoor dat er geen fout optreedt tussen deze softwarematige adresinstelling en het adres dat u nadien moet instellen op de betreffende AUTOBUS interface (hardware). Raadpleeg voor meer informatie 'Algemene Begrippen'.
'Naam'

geef hier de TELETASK 'I' interface een toepasselijke naam (vb: Ingangen 33 tot 40 bord gelijkvloers). Standaard wordt hier door PROSOFT een korte omschrijving van de interface gegeven.
Nadat alle 'I' interfaces toegevoegd zijn aan uw project, moeten de verschillende instelbare parameters van elk van hen worden geconfigureerd. De parameters zijn verschillend voor de vier groepen van 'I' interfaces:
Praktisch: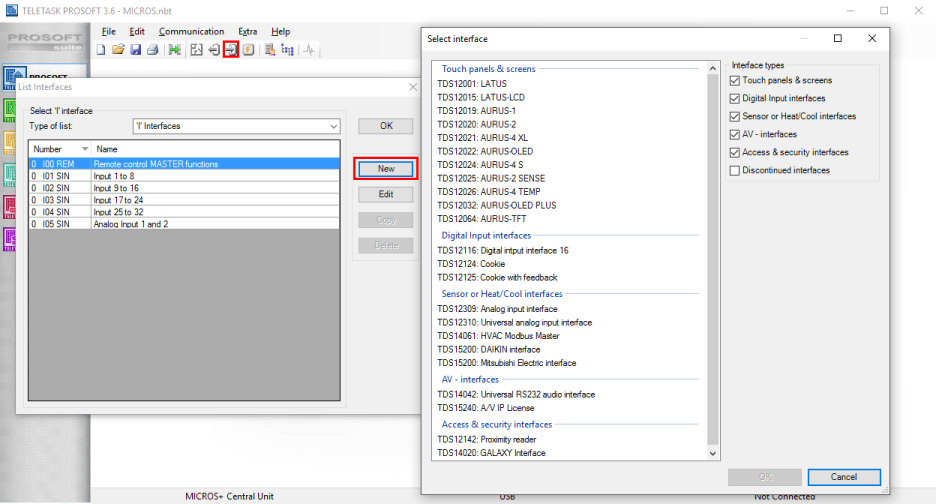 Klik op het 'Ingangen icoon'.
Het 'Lijst Interface' venster verschijnt op het scherm. In dit scherm zijn de standaard 'I' interfaces weergegeven.
Klik de 'Nieuw' toets aan om een 'I' interface aan uw project toe te voegen.
Klik op de gewenste interface in de 'Selecteer interface' lijst en druk op OK.
Het 'Definieer Interface Functie' venster verschijnt op het scherm. Stel in dit scherm de verschillende parameters van de betreffende interface in:
Klik 'OK': een 'I' interface is toegevoegd aan uw TELETASK domotica project. Het venster 'Definieer Interface Functie' sluit af.
In het 'Lijst Interfaces' venster dat opnieuw zichtbaar is, wordt de toegevoegde 'I' interface weergegeven.
Herhaal deze werkwijze voor alle TELETASK 'I' interfaces die aan uw project worden toegevoegd.