Gebruikerscode
Op bepaalde grafische interfaces (zoals op een OPUS, ATMOS, iSGUI of een AURUS-TFT) is het mogelijk specifieke items met een code te beveiligen. Bij deATMOS is het ook mogelijk om het opstarten met een gebruikerscode te beveiligen (zie ATMOS properties in GUISOFT).
Deze code kan enkel in PROSOFT gewijzigd worden en is m.a.w. ook dezelfde voor alle interfaces en apps.
De code is standaard 12345 en kan enkel nummers bevatten (4 tot 10 cijfers).
Om deze in te stellen ga naar: Extra > Gebruikersinstellingen
PROSOFT paswoord
Zowel de DoIP centrale als het .NBT bestand kunnen beveiligd worden met een paswoord indien gewenst. Zo kan aan onbevoegden de toegang geweigerd worden.
Telkenseen beveiligd .NBT bestand geopend wordt of verbinding wordt gemaakt met een beveiligde DoIP centrale, zal naar het paswoord worden opgevraagd.
Achteraf kan het wachtwoord in PROSOFT enkel gewijzigd of verwijderd worden na het geven van het huidige paswoord.
Het wachtwoord is alfanumeriek (een typisch PC paswoord).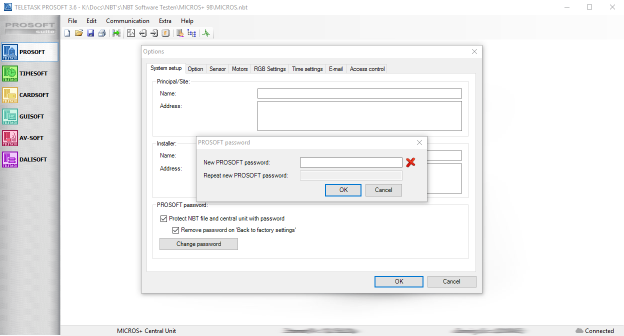 Om dit in te stellen ga naar: Extra > Opties > Systeem instellingen
';Security': Vink " Protect NBT file and central unit with password " aan als u wenst onbevoegden toegang tot het .NBT bestand te weigeren. Wanneer het .NBT bestand is beveiligd met een wachtwoord zal het:
onmogelijk zijn om het .NBT bestand te openen zonder het juiste wachtwoord
onmogelijk zijn om een verbinding met een wachtwoordbeveiligde centrale eenheid te maken, zonder het juiste wachtwoord. Dit betekent dat het verzenden van een nieuw bestand, het ontvangen van het bestaande bestand of het gebruik van Diagnostics, onmogelijk zal zijn.
Elke keer dat u deze instellingen wijzigt, wordt u gevraagd om het .NBT bestand op te slaan.
Als u een wachtwoordbeveiligd .NBT-bestand verzendt naar een niet beveiligde centrale eenheid, of als u een niet wachtwoordbeveiligd .NBT bestand verzendt naar een wachtwoordbeveiligde centrale eenheid, zullen beiden een wachtwoord beveiliging krijgen.
Als het wachtwoord van het .NBT bestand verloren gaat, is het enkel nog mogelijk om de centrale eenheid terug in te stellen naar de fabrieksinstellingen en een nieuwe .NBT bestand aan te maken. Zie ook de opmerking hieronder.
BELANGRIJKE OPMERKING: Standaard wordt de "Remove password on 'Back to factory' settings'" ingeschakeld. Als u wenst dat het wachtwoord na het resetten van de centrale eenheid door het indrukken van de SW1 en SW2 knop, behouden blijft, schakel dit dan uit. Houd er rekening mee dat als u het wachtwoord vergeet, u niet in staat zal zijn om een nieuw .NBT bestand te maken. Het kan alleen worden gereset door de centrale eenheid terug te sturen naar TELETASK voor reparatie!
Technische code
De technische code geeft op sommige interfaces toegang tot bepaalde instellingen zoals AUTOBUS adres, IP adres, ...
Vb.: bij interfaces die geen draaiwielschakelaars hebben, moet het AUTOBUS adres ingevuld worden via een configuratiescherm, na het invoeren van de juiste code.
Dit is altijd 09876 en kan onmogelijk gewijzigd worden.