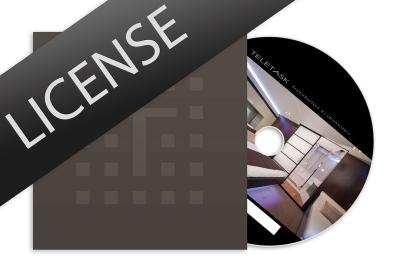 1. Introduction

The 'DOMUS/PICOS+' license is used to extend the capacity of your DOMUS/PICOS installation from max 44 to max 68 outputs (see overview below).
2. Overview

OUTPUTS on basic DOMUS/PICOS TDS10009: max. total 44
Relays

16

8 (1x TDS13510 or TDS13512 or TDS13611)

24

Dimmers

4

8 (1x TDS13611 or TDS13610 or TDS13621***)

12

Motors

0****

8 (2x TDS13525 or TDS13526)

8



OUTPUTS with DOMUS/PICOS+ license TDS15009: max. total 68
Relays

16

24 (3 x TDS13510 or TDS13512 or TDS13611)

40

Dimmers

4

12 (e.g. 3 x power dimmer TDS13634 or TDS13644 or TDS13611 +1 x power dimmer or 12 x DALI addresses)

16

Motors

0****

12 (3x TDS13525 or TDS13526)

12
REMARKS:
(*) A DOMUS or PICOS installation can be extended with 9 additional DoIP central units (up to 4540 outputs).
(** ) The AUTOBUS has a capacity of up to 31 interfaces (one physical interface may occupy more than one address).
(***) The TDS13621 interface is limited to 8 DALI or 8 DMX output channels on the DOMUS/PICOS.
(****) The internal relay outputs of the DOMUS/PICOS can also be used as motor controls (curtains, shades, …) (2 relays to be used per motor).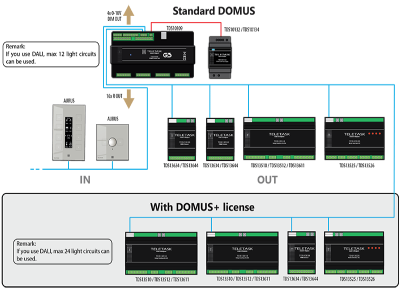 3. Activation
1. You'll need to order physical license code (in envelope) with product code TDS15009.
2. To use this license, you must activate it first. Therefore, you log onto your TELETASK Professional account at www.teletask.be, download the activation file and import this file into your PROSOFT project.

a. Go to teletask.be -> professional -> License activation (TELETASK Cloud) -> login with your (professional) TELETASK Cloud Account by entering e-mail and password
b. Select 15009 – DOMUS/PICOS extension license + enter code from the envelope
c. Select '10309 - DOMUS' central unit + enter serial number (9 characters, see small sticker on the central unit)
d. Download activation file
3. Open PROSOFT

a. Import the activation file via 'Extra' -> 'Licenses' -> 'Import activation file'
b. Now you can add additional outputs to the central unit via PROSOFT and connect physical components.


Table of contents: