Introductie
Verlichting, jaloezieën en gordijnen bedienen als het donkerder of helderder wordt? U kunt ze allemaal automatisch aansturen via een lichtsensor-basisfunctie of met de astronomische klokfunctie. Ze zijn beide ingebed in het TELETASK-systeem. Met een lichtsensor kunt u de lichtintensiteit wel meten maar niet voorspellen. Met de astrofunctie daarentegen wel. Het systeem kan voor/na zonsopgang en zonsondergang werken. Hoe werken beide opties en wat zijn de mogelijkheden?
PROSOFT, de configuratiesoftware waarmee systeemintegrators het TELETASK-domoticasysteem kunnen opzetten, heeft een volledig kloksysteem. Dit maakt het mogelijk om bepaalde acties op een bepaald tijdstip uit te voeren, mits aan een bepaalde tijd en voorwaarde wordt voldaan. Voorbeeld: het licht in de tuin aandoen om 18.00 uur, mits het voldoende donker is, daarna om 21.00 uur uitdoen. Binnen kan een klokfunctie vele andere taken uitvoeren, zoals het regelen van verwarming, koeling en gordijnen, om er maar een paar te noemen.
Het alternatief: een astronomische klok
De TELETASK-systeemfuncties kunnen nu ook worden bestuurd via een astronomische klok die is geïntegreerd in de DoIP-centrales. Deze klok voorspelt elke dag van het jaar wanneer de zon opkomt of ondergaat op een bepaalde locatie, wereldwijd. Zo kan de astronomische klok precies bij zonsondergang of zonsopgang een actie in gang zetten, of een aantal minuten/uren eerder of later.
Hiervoor heeft de astronomische klok geen input van een lichtsensor nodig. Dit maakt de techniek interessant wanneer er toch geen lichtsensor nodig was, zoals in een appartement zonder buitenverlichting, of als er geen budget was voorzien voor een lichtsensor. Met andere woorden, het verlaagt ook het instapniveau om te kiezen voor domotica. Bovendien bespaart de astronomische klok energie door nutteloos energieverbruik te voorkomen.
Een voordeel van een klokfunctie met een lichtsensor ten opzichte van de astronomische klok is natuurlijk dat deze acties kan ondernemen op basis van de daadwerkelijke lichtintensiteit buiten. De astronomische klok kan geen rekening houden met bewolkte of bijzonder zonnige dagen. De keuze is aan u. Alles is mogelijk. In het TELETASK-systeem is het immers softwaregedefinieerd en 100% flexibel.
Wat zijn de toepassingen van de astrofunctie?
Veel toepassingen zijn vergelijkbaar met die met een lichtsensor, met dit verschil dat u zo'n sensor niet nodig heeft. Gordijnen sluiten, tuin- en opritverlichting activeren of zelfs binnenverlichting. Bijvoorbeeld een uur voor zonsondergang. Ideaal om buiten te eten en te genieten van de tuin of voor meer veiligheid. Na zonsondergang kan bijvoorbeeld het pad naar de voordeur, de parkeerplaats of de toegangspoort tot het pand automatisch worden verlicht zonder dat er rondom bewegingssensoren nodig zijn. Tuinsproeiers kunnen 's nachts worden geactiveerd op een aantal uren na zonsondergang of voor zonsopgang. Eenvoudig te configureren en flexibel te wijzigen binnen enkele seconden. Zelfs vanop afstand.
Voldoen aan de wensen van de klant
Met aansturing op basis van een astronomische klok wordt het TELETASK domoticasysteem nog veelzijdiger, voor nog meer gemak in en rond gebouwen. Het is een functie waarvoor we veel vragen hebben ontvangen en die we graag beschikbaar stellen.
Hoe de Astro-functie in PROSOFT configureren
U vindt de Astro Clock-functies in de functielijst: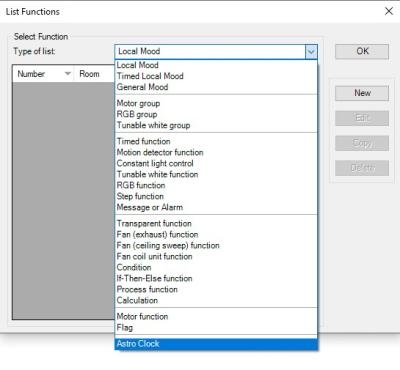 Daar kunt u tot 4 Astroklokfuncties definiëren.
Zorg ervoor dat de juiste globale positie van de eindgebruikerslocatie (huis/gebouw) is ingevoerd in de velden Breedtegraad/Lengtegraad (zie de screenshot hieronder). PROSOFT zal de locatie van de configuratie-pc invoeren bij het maken van een nieuw .nbt-bestand, maar als u PROSOFT start vanaf een andere locatie dan de uiteindelijke locatie van de centrale eenheid (het huis of het gebouw van de klant), moet u mogelijk de breedtegraad/lengtegraad wijzigen in PROSOFT (aanbevolen als beide locaties meer dan 20 km van elkaar verwijderd zijn). U kunt de locatie-informatie op veel websites vinden (zoek naar 'vind lengte- en breedtegraad van mijn locatie' en voer het dorp of de stad + land in).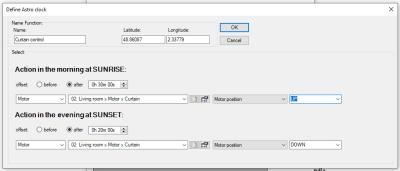 OPMERKING: Als de privacy-instelling op uw Windows 10-computer "Sta apps toegang tot uw locatie toe" is uitgeschakeld, worden de velden niet ingevuld en blijven ze leeg. Dan moet u de coördinaten handmatig typen!

Gebruik uw computerbrowser en de Google Maps-website om handmatig coördinaten te vinden. Bij Google maps klikt u met de rechtermuisknop op de locatie om de lengtegraad/breedtegraad informatie te krijgen (voorbeeld van het Louvre museum in Parijs in de screenshot hieronder):
Museum Parijs/Louvre Breedtegraad is 48.86087 en lengtegraad is 2.33779.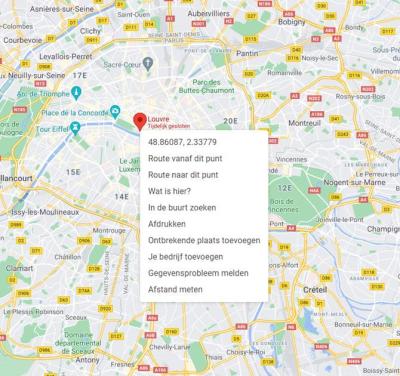 Nadat u de coördinaten heeft ingevoerd, kunt u deze ook controleren door op de knop "Controleren op google maps" te klikken.
Vervolgens kunt u de op astronomie gebaseerde actie definiëren. In één scherm kunt u een actie definiëren rond ZONSOPGANG (ochtend) en ZONSONDERGANG (avond).
Voorbeeld: Open een gordijn 30 minuten na ZONSOPGANG en laat het weer zakken 20 minuten na ZONSONDERGANG.
Inhoudsopgave: